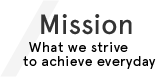 STYLEM has always created innovative business models throughout the ages. With our foresight of the future and our finely-tuned sensibility, we will continue creating styles that are one step ahead of the times.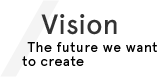 We aim to create a world where we ourselves, our partners, and everyone who we are related to through our products and services values their own individuality and can live with their own style.


We make bold proposals by combining real information and creativity, and fulfill our customers' desires with the human resources and experience that we have built up over 150 years.